Tangocamp 2010 has been cancelled. We apologise for any inconvenience. No registration is possible any more.
DATES
The Tangocamp Slovenia will take place from Saturday, August 7th till Saturday, August 14th, 2010.
CLASSES
The camp participants are invited to take the series of regular daily classes with Juan and Graciana (5x 75minutes, Sunday - Thursday). The participants will be assigned to the appropriate group (beg/interm or advanced) upon arrival to the camp. You need a dance partner for the series of these classes.
WORKSHOPS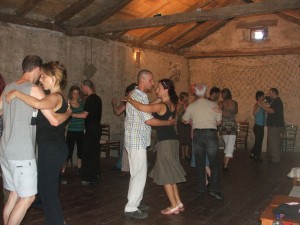 By signing up to the camp, you are entitled to participate at two afternoon or weekend workshops of own choice (Sunday through Friday).
Dance partners for the workshops can be chosen at the camp.
Registration for the workshops will take place at the camp.
Additional workshops can be purchased at the camp for the price of 16 euro p.p. per workshop. Camp visitors are welcome to join these workshops.
MORNING EXERCISES
The morning group Feldenkrais session is free-of-charge. Give it a try! The participants of last year were delighted to start their day with a better awareness of their bodies.
TIME-FRAME / SCHEDULE
The camp starts on Saturday night: arrivals between 16h and 18h - settling in, registration, dinner, the opening milonga.
Classes start at 10:00 on Sunday morning.
The camp will finish after breakfast on Saturday morning (after the long good-bye milonga on Friday night).
Sat

Sun

Mon

Tue

Wed

Thur

Fri

Sat

9.00

Breakfast
Feldenkrais morning exercises with Dirk

Breakfast, departure by noon

10.00-11.15

Class A with Juan and Graciana

WS-F1

11.30-12.45

Class B with Juan and Graciana

WS-F2

13.00

Snack

15.00-16.15

WS-S1

WS-M1

WS-T1

Afternoon off

WS-R1

WS-F3

16.30-17.45

Arrival, settling in, registration

WS-S2

WS-M2&xnbsp;

WS-T2

WS-R2

WS-F4

18.00-19.15

WS-S3 Guided Practica -Floorcraft

WS-M3

WS-T3 Guided Practica –Q&A

WS-R3

WS-F5

19.30

Dinner

21.00

Opening Milonga
(until 2.00)

Milonga
(until 1.00)

Farewell Milonga (until 3.00)
The schedule is preliminary as of 6th May 2010, and will be refined with workshop-details soon.